Dismiss Notice
Hey Guest! Our brand new custom games interface just came out; go check it out at
Halo Customs
​
On a cold winter's evening in late 2012, a group of web developers, community leaders, and all-around classy gentlemen huddled in front of the proverbial fireplace and discussed plans to give Halo's quirky and creative Forge and Custom Games community a new home.
At the heart of this community-driven vision was a system designed to streamline the process for those wishing to engage with another on the virtual battlefield in order to enjoy the sorts of experiences that simply can't be found in matchmaking hoppers. From wacky mini games to methodical map testing, we sought to provide a platform to allow visitors to maximize the fun they could have in Halo games.
This admittedly simple system proved to be incredibly successful in achieving its prime directive: getting out of the way and connecting this community to fun Halo experiences. Even with Halo 4's waning population, this system reached an impressive level of popularity.
Last summer, we decided to swap this system out in favor of a new one and site updates rendered this change irreversible. The new system we implemented seemed great on paper, but ultimately proved to be overcomplicated and admittedly buggy. Over the last few weeks,
adderrson
and myself set out to bring back the "OG" Custom Games system in all its former glory, and then some.
Today, it is our pleasure to announce that this new (old) system is ready for public use! We're still working on some tweaks and additions, but the core functionality is here. We hope you're as excited as we are. Read on below for some details on some of this system's features.
Creating a Lobby:
If you frequented HaloCustoms prior to summer of 2015, this should be quite familiar to you. Simply click the 'Host New Lobby' button within the Custom Games section. From there, you'll be asked to input a title and the body of your lobby post (be sure to be detailed and make people want to join). You'll also be asked...

​
With the
Meet Your Maker Forge Contest
in full swing, Big Team Battle is at the forefront of the minds of many. For a lot of us, BTB means enjoying varied gameplay experiences on big maps with a larger team at our backs. Our friends at BigTeamBattle.net are here to remind us that BTB has a fierce competitive side as well.
Starting at 12 PM PST, the tournament will take place on Saturday, July 30th 2016 (the day before the aforementioned contest's submission deadline). You can find some quick details on the event below. For full details, head on over to the
Main Announcement on BTBnet
!
Tournament Format:
Single Elimination bracket
Best of 5 series for regular matches
Best of 7 series for the final
Maps and Gametypes:
All maps and modes can be found in the
bookmarks
of
MATCLAN
.
Artemis (CTF, Slayer) by Ad Arcanum & The Psycho Duck
Fracture (CTF) by Squally DaBeanz
Guillotine (Strongholds, Slayer) by The Psycho Duck & 343 Industries
Scavenger (Strongholds, Slayer) by CommanderColson
Torque (CTF) by 343 Industries
Prizes:
Jinx HCS T-shirt and Jinx HCS cap
Jinx HCS T-shirt
Halo-themed keychain
For full details, please view the
main announcement
. We hope you're as excited for all of this upcoming BTB-related goodness as we are!
​
An extra special Deals with Gold post this week as it is what Microsoft is branding as the "Ultimate Game Sale".
With over 250 sale items across both Xbox One and Xbox 360, there's plenty to choose from. Including a plethora of Backwards Compatible Xbox 360 games.
On these big sales I don't usually make any recommendations but I just wanted to point out that
Red Dead Redemption
is 75% off and will be added as a backwards compatibility title
this friday
.
Remember, I mark Xbox 360 content that is backwards compatible with
. As per the usual, all of this week's deals for both systems can be found below;
​
Greetings my fellow forgers and forge-ettes! With the release of a new forge canvas, new vehicles, and new forge options in general, the judging panel has decided to push the submission deadline for MYM map submissions back by 2 weeks. The new deadline will be set at
11:59 PM EST on July 31st, 2016
. We hope this will give entrants some extra time to consider the new options at their disposal, as well as extra time to add polish to already complete designs. Good luck to all, we can't wait to see what you come up with!
For more information about the
Meet Your Maker: BTB Forge Contest
, follow this link.
​
If you haven't guessed it, the Warzone Firefight update is now live and is a rather hefty one sitting at about 7GB. Also for those of you with friends that don't own the game yet, get them to download Halo 5 for free! From today through to July 5th. Details on the contents of this update and information on the "Free Play Days" can be found in
an in depth post I made on the matter
. This also includes the full REQ list for this update.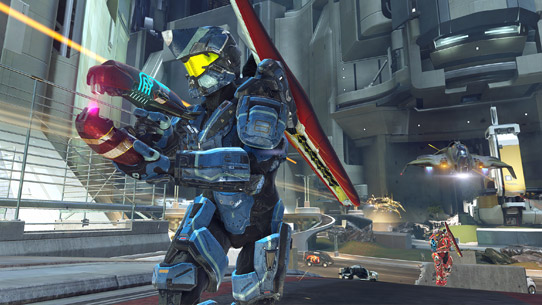 ​
On June 28th we were also treated to an exclusive look into new features added to Halo 5's forge in this update, as well as a look at everything else included in the update. You can find the official recording of the stream in it's entirety below;
If you're just interested in watching the forge content you can skip straight to it with
this handy dandy link
.
Spoiler alert, increased budget, cool new items and freaking ziplines!
Before I delve more into 'cool forge stuff' I'd like to point out that you can find the patch notes for this update
here
. If you're just interested in taking a look at a list of newly added items for the forge sandbox however, you can find this information in the spoiler box below.